What is it?
BringAbout is Decerna's comprehensive tool that allows businesses to set a base year, calculate their Scope 1, 2 and 3 emissions, and set near-term and long-term science-based targets.
The calculated emissions report can be downloaded as well as shared publicly. The tool also allows companies to download Carbon Reduction Plan (PPN 06/21) and Streamlined Energy and Carbon Reporting (SECR) reports that comply with reporting requirements entailed by the UK Government. The calculation and target setting methodologies used in the tool are based on the GHG Protocol and SBTi's Net Zero Standard.
The tool provides activity-based calculation method for Scopes 1 and 2 and a combination of spend-based and activity-based calculation methods for Scope 3 emissions reporting.
The emission factors used in the calculations include sources from Government Conversion Factors for Greenhouse gas Reporting, BEIS Conversion factors by SIC code and Exiobase databases.
What does it look like?
Dashboard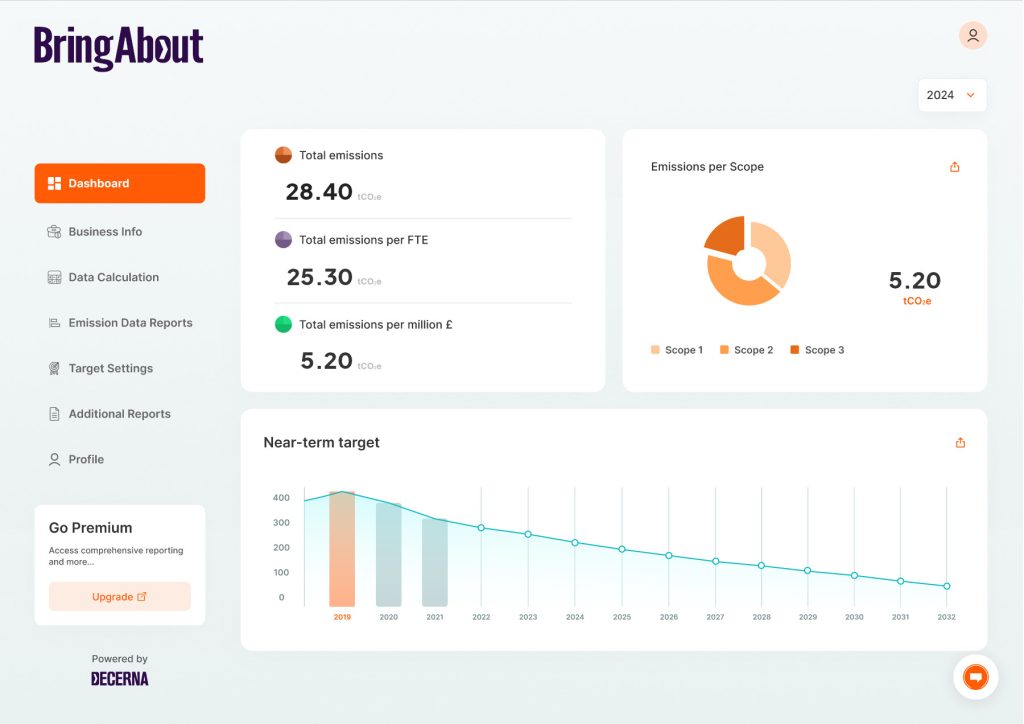 Emissions Data Reports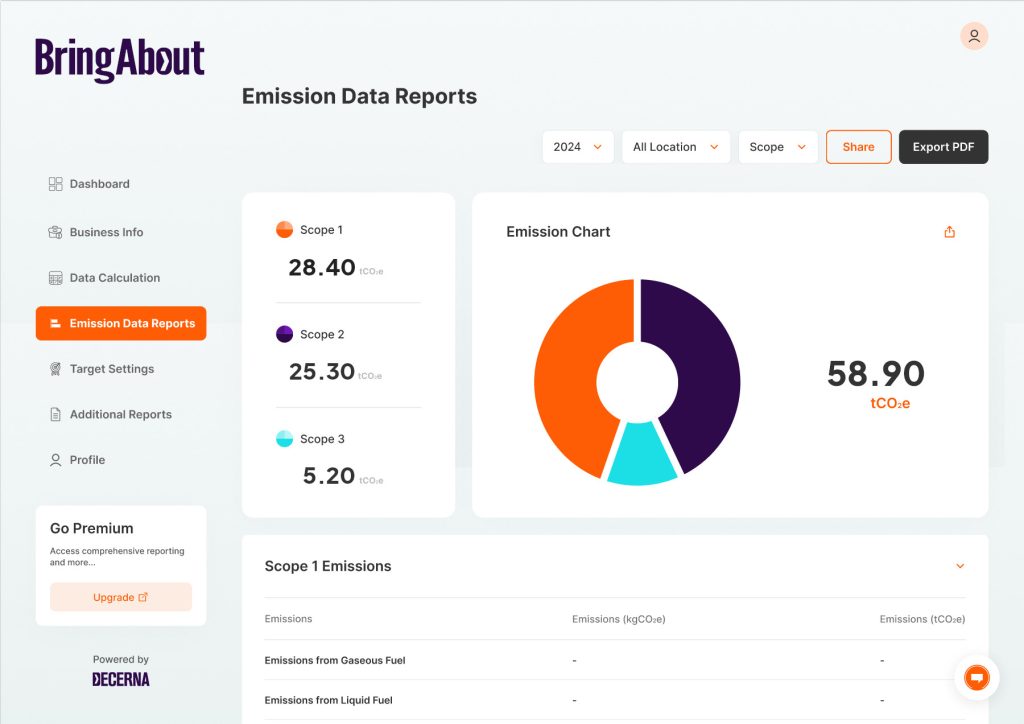 Target Settings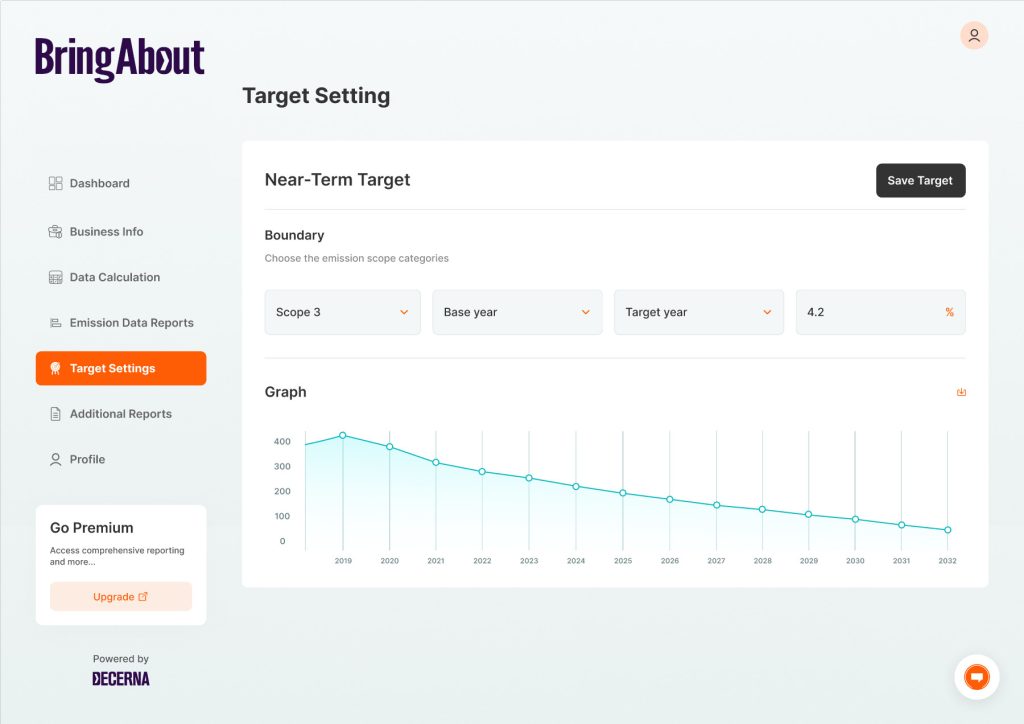 Additional Reports > Carbon Reduction Plan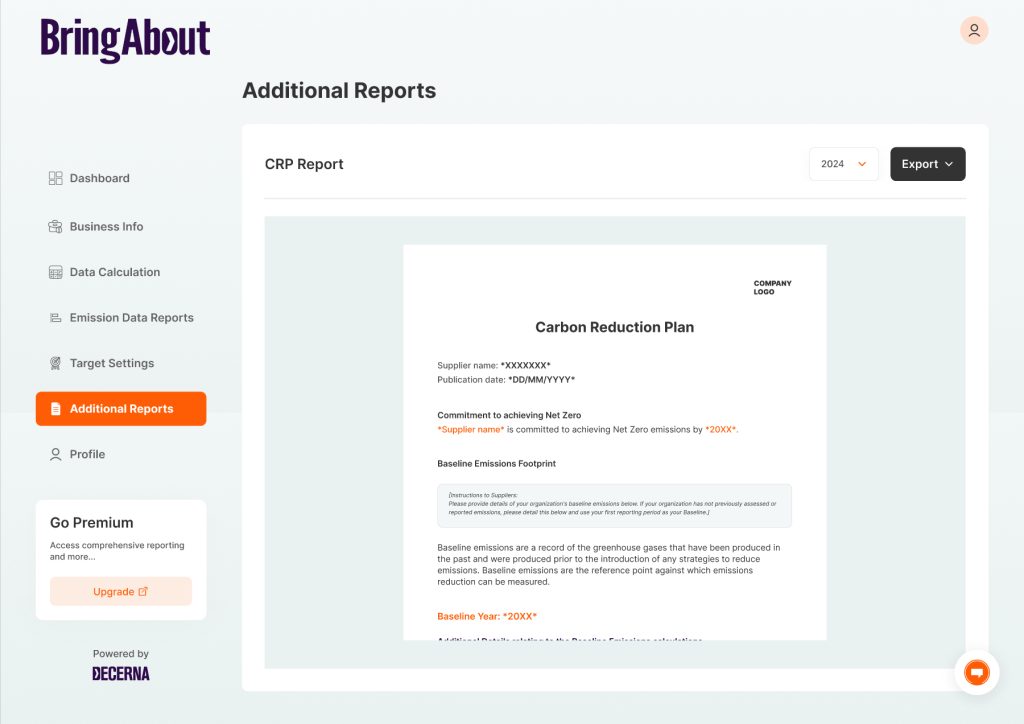 What it can do
Basic subscription
Premium subscription
Pricing
Free
£295 +VAT annually,
or £795 +VAT for 3 years upfront – saving 10%
Emission categories
Scopes 1 & 2
+Scope 3
Automated report generation
Comprehensive audit-ready Emissions Report
+Carbon Reduction Plan (PPN 06/21 compliant)
+Streamlined Energy and Carbon Reporting (SECR)
Attachments
–
Upload and store files against each emission data entry
Buildings
Up to 10 Buildings across multiple Locations (i.e. sites) across the UK
Easy data entry
Automatic period alignment for activity data not aligned with the reporting period
Emission factors
UK Government conversion factors for greenhouse gas (GHG) reporting, DESNZ Conversion factors by SIC code and Exiobase databases
Target setting
Science-based near-term and long-term target setting
Collaboration
Invite users across the Business, with view or edit access, to input data for different Buildings or Locations
Visibility
Share your Emissions Report with stakeholders via a publicly shareable link (optional)
Platform
Responsive and functional on desktops, laptops and mobiles
Tooltips
Clickable icons throughout BringAbout explaining terms, definitions and data requirements. As well as links to useful templates to aggregate data such as the mileage of your fleet.
BringAbout Knowledge
Factsheets & videos covering the most common interventions and measures businesses can deploy to save energy. In addition to a comprehensive Net Zero factsheet and FAQs, the central hub for concise and clear guidance for your journey to Net Zero.
BringAbout FAQs
A library of constantly updated frequently asked questions and answers specific to Decerna's comprehensive tool.
Additional options
Premium Supported
You may need some help with your first Carbon Reduction Plan or have specific questions – Decerna is here to help. 

Step 1: for you and up to one colleague, first join one of our regular online BringAbout Demo Sessions. Then get started with an essential introduction to Net Zero through our 45 minute Net Zero Journey webinar. Then learn more with an overview of the Greenhouse Gas Protocol (GHG) and setting science-based targets during our 60 minute Emission Reporting & Target Setting webinar.
 
Step 2: receive up to 1 hour of consultancy support (in 15 minute increments) from our in-house Net Zero Advisors, who will have access to BringAbout and can see what you see. Following this, if you needed further support, take Step 3: to buy additional consultancy credits through Premium Custom, starting at £495 +VAT for 3 hours, with discounts available for larger bundles. 
£995 +VAT
(includes 12 months of Premium)
Premium Express
Need a Carbon Reduction Plan (CRP) urgently for a tender? Generate a PPN 06/21 compliant report within BringAbout Premium and be supported with up to 6 hours of consultancy credits from Decerna's in-house Net Zero Advisors.

Possible over 1-2 working days, subject to adequate data and upfront payment.
£1,995 +VAT
(includes 12 months of Premium)
Premium Custom
Want to decarbonise your buildings (with an energy audit) and/or products (through an LCA or EPD)? Why not utilise Decerna's in-house Technical Specialists and turbocharge your Net Zero Journey. Let Decerna be your Implementation Partner and Make Net Zero Happen.

You may also want either Premium Supported or Premium Express with more consultancy credits.

Also relevant for those with more than 10 buildings.
Quotation upon request
(includes 12 months of Premium)
Consultants, local authorities, and other organisations
Partner
Others wishing to offer BringAbout Premium to their clients, members or area can do so and manage this through a Partner Login. Enabling other Net Zero initiatives to effectively support their clients on the journey to Net Zero. BringAbout can also be co-branded with Partner logo(s).

Designed by Decerna, we believe BringAbout to be the most user-friendly Net Zero tool available. We are committed to continuously improving and will respond to emerging needs as and when they arise. Ensuring BringAbout remains the most practical and helpful tool for businesses to measure, set targets and report on their Net Zero journey.

Free trials are available upon request. Note that should a Partner subscription lapse, Premium accounts underneath depreciate to Basic, giving individual businesses the choice to upgrade themselves to Premium, should they wish.
≤ 3 businesses
£695 +VAT annually
≤ 9 businesses
£1,495 +VAT annually
≤ 49 businesses
£4,995 +VAT annually
≥ 50 businesses and/or custom limit on buildings
Quotation upon request
If you'd like to discuss either Premium or Partner options, or are currently Basic and wish to upgrade, please get in touch.